Creating a quality website complete with valuable content is difficult, requiring a lot of hard work, time and effort to design and build. So once you have published your site, the last thing you want is to find that somebody else has stolen your design (copying your source code), content (including text, images, videos etc) or even your entire site.
There also could be situations where your content is reposted with proper attribution, but without your permission. While instances of this nature are not always harmful to your site and/or reputation, if you want to keep your original content on your site only, then you should have the duplicate content removed.
The good news is that no matter how or why your content is used without your prior knowledge, there are measures you can take to have it removed from the offending website. And there even are ways to prevent your content from being stolen in the first place. Today, I'm going to tell you about 5 easy tools you can use for these tasks.
Protect your content and don't let the bad guys win! The following guide outlines the steps you can take to deal when someone copyrights your work:
How to Find Stolen Content
1. Google Alerts
There are a number of tools you can use to scour the internet and see if your content is being used without your permission. One of the best and simplest tools for this is Google Alerts.
You simply need to go to the Google Alerts website, put in a portion of your article, choose what types of websites should be searched, and then provide your email address so Google can contact you with the results. You can create as many alerts as you like and adjust the settings to be notified on a daily, weekly, or "as it happens" basis.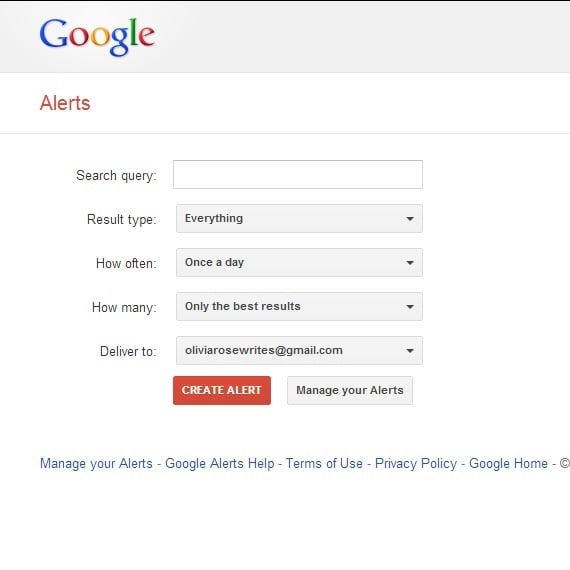 Google Alerts is a great tool to use to search for stolen content.
2. Copyscape
Copyscape is a good option for those who publish a lot of content. Premium results are not free, but they are well worth the money spent. All you have to do is type in your website URL. Then Copyscape will search the web and let you know which sites are reposting your content.
Copyscape is a helpful tool to use to see if your website content has been plagiarized.
Yet another good tool for catching content thieves is trackback notifications. These notifications are provided automatically by well-known website and blog platforms such as WordPress, Drupal, and Movable Type. They will notify you as soon as someone links to your post.
If a particular site is linking to your site on a regular basis, there is a chance the site is copying and reposting your material. In order to use trackback notifications, you simply need to look over the feedback provided by your site (which usually is sent to you via email), and then check any site that you deem suspicious.
3. DMCA
DMCA stands for The Digital Millennium Copyright Act which details the rights content owners have when they believe their content has been stolen.
DMCA.com allows for two free scans of your website to check for copied content. You can pay $10 a month for their Protection Pro plan to scan your website as much as you want per month.
Both the paid and free subscription options allow you to create a website certificate as well as badges to authenticate the ownership of your content to potentially deter thieves.
How to Get Duplicate Content Removed
Step 1: Gather your evidence.
It's tempting to immediately send angry, threatening emails to the webmaster and registrar, but you should approach this situation with a cool head. After all, what if the site owner paid a freelance writer for a blog post, and has no idea the writer actually plagiarized you?
Before doing anything else, take the time to collect your thoughts and gather your evidence. Create a document with all the information you can find, including the URL(s) where the stolen content resides, any contact information, dates, times, and so on. You should also be prepared to keep a log of all communication that takes place, just in case you need to escalate the issue.
Step 2: Contact the thief directly.
Although confrontation can be challenging, it's often the best way to get your copied content removed. Look through the infringing website for contact information. Send a short message stating what was taken, including the URLs of both the original and copied page(s), and ask for the removal of your content.
When you send your email, make sure you include a deadline. It's perfectly fair to say "if I don't receive acknowledgement of the removal within 48 hours, I'll report your website to Google." This adds a sense of urgency and shows you're serious.
Alternately, if you're comfortable with this, you can turn the theft into a link building opportunity: instead of asking for a removal, have the webmaster add a followed link to your original page as a credit link. However, be careful with this one: if the website looks spammy, you probably don't want a link from it. So use this tactic with caution.
Step 3: If there's no response, report the page to Google.
If the website with your content has been indexed by (and is ranking on) Google, they can at least help you get it out of their search results. Google has a copyright infringement form that you can fill out and submit to their team for review: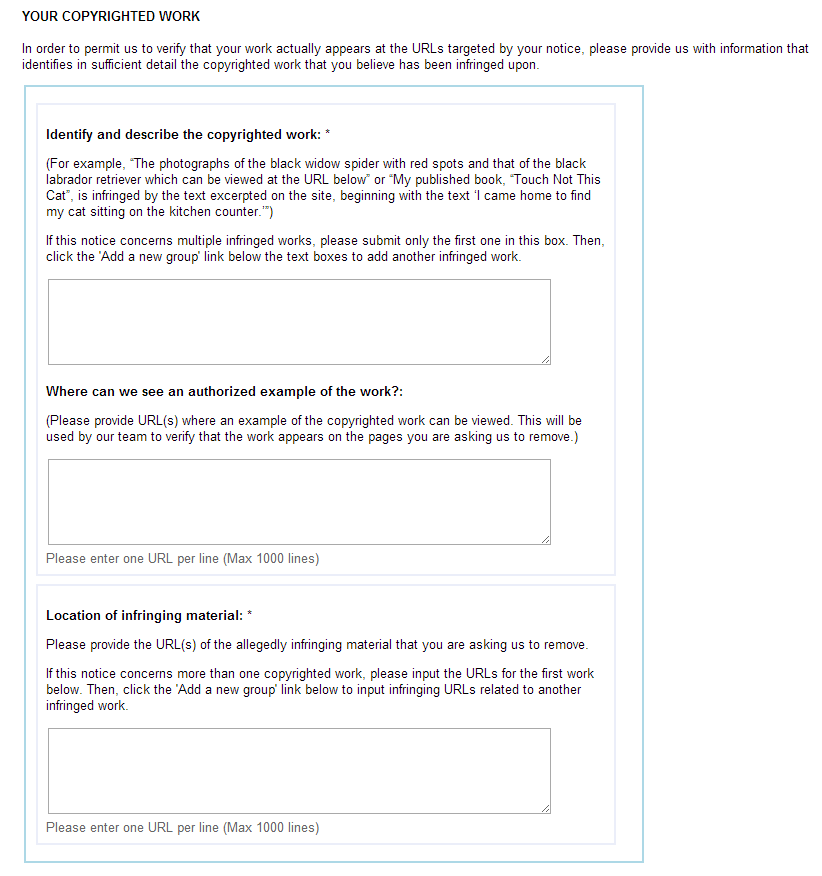 What happens once you submit this report varies. If you're reporting stolen content that is actually hosted on one of Google's services, they are likely to remove it entirely. Content hosted elsewhere may simply be deindexed so it doesn't show up in search results. Depending on the severity of the scrape (for example, if your entire site was copied), the offending site may receive a good old-fashioned penalty in Webmaster Tools.
Step 4: Report the page to the domain registrar or host.
If deindexing isn't enough for you, and you want the content removed completely, you can report the thief to their domain registrar (the company who owns their URL). Registrars want to do everything in their power to avoid being caught in the middle of a legal battle, so if you tell them there's copied content being served via their URL, they might suspend the domain.
To identify the registrar of a particular website, use a WHOIS tool like this one provided by Network Solutions. Here are some sample results: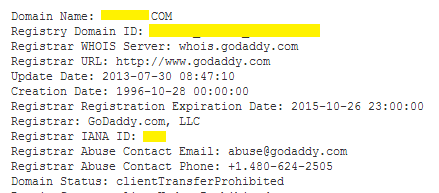 See the GoDaddy contact information there? Most registrars have an abuse or copyright infringement contact email address that you can use to file complaints. Write a short email describing the situation, again including links to the original and copied page(s), and cross your fingers.
You can also report the infringing content to the website host (the company that owns the server). To find the host, you can use a tool like Who Is Hosting This? Follow the same procedure when contacting the owner of the server. The host may pull the infringing pages from the server or even suspend the hosting account if the infringement is severe enough.
Step 5: Report the page to Search Engines
If the copied content or site is ranking in search engines, you can file a Digital Millennium Copyright Act (DMCA) complaint against the copied site. You can submit removal requests to Google and Bing asking for the site to be removed from their indexes. This will not remove the site from the internet but will stop it being listed in the rankings.
Furthermore, if the website owner or hosting service has already taken the content down, but it is still ranking, you can submit requests to search engines to remove outdated content that has already been modified or removed from the web.
Step 6: If all else fails, seek out legal aid.
If the thief won't comply, Google doesn't deindex the content, and you can't get any results from the registrar or host, you have one final option. The Digital Millennium Copyright Act is a US copyright law that prohibits the theft of digital content. Contact a lawyer who has experience with DMCA takedowns and ask for their help.
Although this option may be costly, if the stolen content is outranking you or otherwise damaging your online presence, it just might be worth it. Getting legal aid involved is a clear signal to copyright thieves that you mean business.