In the first decade of the 21st century, organization heads cited 'control' as a critical measure of success – be it organizational or management. Visitor security and compliance protocol increased exponentially, as head honchos shifted their focus to bring in a variety of regulatory functions. Across the globe, organizations are evaluating the best possible measures to automate visitor management.
Visitor Management Systems today encompasses a variety of tasks around visitor data, security, and compliance requirements for the enterprise.
Visitor Management systems contribute to the efficiency and safety of an organization by focusing intently on visitor flows and performing in-depth analytics based on the data. There have been well-recorded instances of visitor management software saving organizations catching fraud in potential dishonest billing (owing to excellent time registrations and tracking), making visitor registration at hospitals in foreign localities easier (scanning of ID), and easy location guidance for visitors (printing on badges).
This blog profiles some of the best free and open-source visitor management software, while also analyzing the way forward, technologically, for visitor entry tools. 
Defining Visitor Management Software
Before moving to Visitor Management software, let us begin by defining visitor Management as a concept.
Be it small and medium-sized or extremely large multinational corporations, there are a plethora of visitors who call on personnel working in these firms every day for business consultations and meetings. It thus became tantamount to monitor these visitors.
This gave rise to Visitor Management. It is a system by which an organization records and tracks the walk-in visitors.
For example, a graduate student heading in for an interview at a renowned computer hardware firm may be asked to enter specific details such as name, phone number, person to visit, and reason to visit at the reception. This is Visitor Management.
In a recent survey conducted by ISC West, a security conclave, on the importance of visitor management systems, 78 percent of those surveyed rated these systems seven or higher on a scale of 1-10 in significance.
Visitor management software is digital implementations of Visitor Management – using computers and networks – involving a lot more functionalities, such as photo identification and printing, automatic time stamping, etc.
In yet another survey conducted by Traction Guest, a visitor management software specialist, 94 percent of respondents cited visitor management software as a primary reason for operational efficiency and safety.
These visitor management systems help organizations collate and analyze information on visitors to complexes, playing pivotal parts in security and planning. Therefore, it's no doubt visitor management software have grown in size and scale.
History of the Visitor Management Systems
For several years, pen-and-paper based methods have been the staple method of recording visitors at organizations. These consisted of manually maintained books, badges, which could determine information such as a visitor's name and their purpose of visit, as well as address.
This method is still widely practiced in certain companies and establishments. Technological advancements, particularly in the 1970s and '80s, led to the invention of the visitor management software. Initially, banks and other technology institutions implemented a simple digital log entry, similar to the manual logbook.
In the modern era, visitor management systems have evolved to perform a plethora of functions. Visitor forms are now capable of being digitally filled and stored remotely on the cloud. Devices with cameras can capture photographs while providing facial recognition analysis for increased security. Data analysis helps in determining the pain-points for visitors and increasing efficiency.
Functionalities aside, these software now come in versions as free visitor management software and open source visitor management software, which are deployed by global organizations at an increasing rate.
Who uses a Visitor Management System?
Features of Visitor Management Software 
Despite being rather simple and modular in its functions, the visitor management system is capable of accomplishing a variety of tasks. Some of them are as follows:
Visitor Registration – One of the basic features of a visitor entry tool, the system should record vital personal information about the visitor before they enter the site. Name, address, telephone number, email ID, etc. Data can be subsequently used for re-registration purposes as well.
Host Notifications – Allowing a host to be informed of a visitor's arrival is vital. This streamlines any preparations for meetings scheduled, while the visitor loses minimal time.
Photo capture and processing – Recording a visitor's photo for immediate use is critical in some multinational companies. This facilitates immediate ID verification, for security purposes.
Segmented Check-ins – There exists a distinction in a variety of visitors who visit firms. Some may be job seekers, other salesmen and professionals looking to tie-up a deal and others on more personal visits. Segregating these visitors in-system allows greater data analysis.
Cloud-based Information storage – Storing on a cloud provides enhanced security and ensures that it can be accessed without degradation loss, while also increasing the security of sensitive visitor information.
Badge Printing – Visitor Badges and tokens have become the mainstay of visitor management software. Printing a badge requires tools such as a printer, a database and a camera. They consist of all vital information for authentication by security.
Third-Party application integration – Features such as voice-based form-filling, directory analysis, etc. can be seamlessly added into a visitor management system depending on capability and need. Open source visitor management systems have an advantage in this case.
Data analysis and reporting dashboard – Data dashboards of visitor management software provide trends and actionable insights. These can be turned into visible process improvements on the lobby floor.
Access Control – Administrative access to sensitive visitor data and processing reports must be made available only to a set of users who fulfill criteria.
Security of Data – Data protection and storing is a vital component of Visitor management software to prevent theft and inappropriate usage within the organization.
Multilingual software – Visitors often arrive at complexes, but not everyone has English as their first and strongest language. In such cases, it's paramount that all reception management tools maintain a connection with visitors, with dialects of their choice.
Advantages of a Visitor Management Software
Safety and Security – Visitor management software help security systems in monitoring users and providing authorities with clear timestamps and identities on arrival. Quick and accurate resolution of threats is thus attained.
Prevention of visitor information loss – With the advancements in processing capabilities of Visitor systems, it's possible to store important information, locally or remotely, for any specified duration of time – much more efficiently that predecessor systems.
Resource-saving specialties – Visitor management systems reduce the load on human personnel on the frontlines (receptionists and security), especially in terms of visitor registry and checks, thereby increasing their efficiency.
Functionality – Be it data analysis and display or notification management to even visitor assessment (accept or reject), modern visitor management software have significantly more to offer than their predecessors.
Cost of operations – Implementing one quick solution in visitor management tools reduces hassles of the visitor lifecycle (registry to screening and monitoring to exit) and increases operational feasibility – all at a far lower cost in the budget.
Scalability – Once implemented in a system, then visitor management tools can be implemented across multiple sites or locations of the same organization. This ensures a seamless central recording of data for the organization.
Enhancing Brand identity – A swiftly designed visitor management system plays a vital part in the visitor's thought process – that of forming a positive brand opinion of the organization.
Access control – Only the administrator can access the most sensitive parts of the visitor data and this stringent control makes it easy for companies to preserve information.
Improved visitor experience – Implementing a visitor management system actually ensures visitors' lifecycle, from the moment they register to the time they leave the campus, is smooth and unfettered. Minimal wait times, prompt location services and easier registry are just some of the features.
How does a Visitor Management System work?
Consequences of not using a Visitor Management System
Top 7 Free and Open Source Visitor Management Software
1. TCEDI
The Tenaerts Cyber Electronic Development Interactive (TCEDI) is a free and open-source visitor management system. The visitors' logged-in information is shared with the receptionists, while they also have discretionary power to sign-out visitors who may have forgotten to do so, on leaving the premises.
(Image Source – TCEDI)
This free visitor management system, which is also an open-source visitor management software has the following key features:
Visitor registry
Visitor badge printing
Easy visitor check-out procedure
Optional Non-Disclosure Agreement forms for visitors to sign
Multi-lingual support including English and French translations
Virtual keyboards on a device
Integration with Joomla to sync contacts
Sharing of visitor information with concerned authorities
Report of daily data dashboards sent to the administrator.
2. VIZITOR
Vizitorapp is an Indian-made Visitor Management software. With a free-version available for a limited number of users, Vizitor claims to have made rapid progress in digitized check-ins for multinational companies throughout the Indian subcontinent. The company has envisioned and executed what is called a Vizitor Suite. It constitutes a hardware device, generally a tablet, used for checking in visitors at the entrance of companies, a mobile application for employees to manage visitors while web check-ins could be conducted as well.
The company offers a plethora of services, some of which are listed below –
Digitized check-ins to delist the use of the pen and paper method of registry
Host Notifications – Enabling the organization personnel to be notified of a specific visitor's arrival through push notifications on Email, SMS and mobile application.
Storage of visitor information so that re-registry can be effectively done with visitor email ID and phone number.
Ability to capture visitor photographs for visual identification
Real-time data analytics and dashboard updates, with rapid information sharing
Data is encrypted and secure.
Ability to check-in an unlimited number of users per day.
Enabling brands to display their company logo prominently on log-in forms.
User Access Control to maintain the security of data.
Platform independent visitor management software. It can be run on devices that have Android or iOS as well as the web.
Besides the standard check-in devices mounted at organization entrances, the company has also developed an application that can be installed on user phones called Vizitor PASS. The application has the following features –
Ability to invite visitors to complex using unique One Time Passwords (OTPs) over SMS.
Ability to accredit or discard visitors.
Host notification through quick application, email and SMS methods.
Quick check-in using a barcode scanner in the application that can read the code placed at Vizitor supported organization entrances.
Control of access to sensitive data using user administrative controls.
Source – Vizitorapp
Lobbytrack is a freemium visitor management tool. The company offers four different forms of visitor check-ins. It first allows employees of a firm, hosts, to pre-register visitors for their scheduled meetings using the lobbytrack.com website. They can then track the visitor as he makes his arrival on the company premise. A pre-registered user will receive an email notification about his/her meeting time, location and host.
When a user arrives at the site/location, they can simply check-in using the Lobbytrack Sign-in application. The user's records will be auto-populated if there's a corresponding appointment. If not, he can register himself on the spot using the application. Host records can be kept in sync with an organization's Active Directory by Windows.
The Lobbytrack on-premise web module mimics the running of the website over computer desktops running on the company intranet. The same functionalities as the website provided certain hardware specifications are provided and fulfilled.
Even security personnel have their Lobbytrack application, called Guard App. The Guard App is synchronized with the central system to alert security personnel when an unauthorized or a watchlisted person attempts a check-in.
The features of Lobbytrack are as follows –
Pre-registration of visitors
Email invitations to users
The sign-in app allows visitors the capability to search for the host and confirm the meeting.
Watch list function – The app allows scanning of visitors' identity against a central authority's list of criminals or felons. Even blocked visitors are constantly searched for. When a person who fits a criminal's profile is detected trying to check-in, a notification/alert is sent out.
Easy availability of Non-Disclosure Agreements
Photo capture
Third-Party integration with Windows' Active Directory.
Notification to host when visitors arrive.
Integration third party applications.
Issuance and discard of access control cards per visitor session.
Disaster Management mechanism – List of visitors with host meeting locations sent to building guards for quick and safe evacuation.
Visitor Badge printing
'Sign-In App' allows the scanning of driver's license to auto-fill visitor registration form.s
Management of schedules for the host with invite modification mechanism prevalent in the 'Host App'.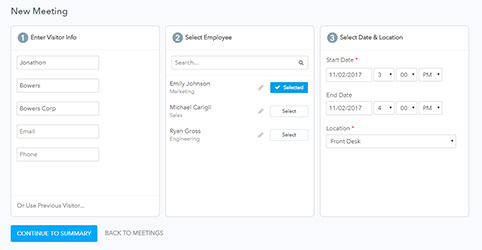 Source – Lobbytrack
My Visitor is another Indian-made Visitor Management System by Kat Technologies. Sold in three distinct models of Bronze, Silver and Gold, each subscription model has added functionalities over the other.
The functioning is dependent on a computer module present at the location, with the necessary software installed on it. My Visitor has a dedicated email ID for sales and queries, as well as its standalone website.
My Visitor can be used in a variety of campuses – from those of hospitals to government enclaves. Some of the features are as follows –
Photo capture at the time of Visitor registration
Ability to print repeat visitor passes
Black-listed personnel are instantly denied entry.
Scanning of visiting card while signing out with barcode
Visitor name search capability
Host notification of arriving visitor
Pre-registration of visitors is possible
Real-time reports and data available on dashboard
Access control of data to specific users
Visitors divisible by category (by nature of the meeting, my meeting type, meeting personnel etc.)
Automatic visitor count processing to inform authorities of the exact number on campus.
Visitor pass generation; Based on certain period fulfillment
Source – My Visitor
5. Ara
Ara is a state of the art digital receptionist that facilitates a seamless experience for visitors at a particular campus.
A mandatory 14-day trial awaits new users, with subsequent pricing firmly affordable irrespective of the size of the firm.
Offering a host of safety and organizational productivity improvement features, Ara looks to go beyond what established Visitor Management tools can offer in the present market.
Some of Ara's features are explained below –
Facial recognition for visitors – First of a kind implementation, which allows users to sing-in without needing the usual form filling registry.
Determination of contents of users hand baggage.
Host Notifications
Disaster Management notifications – Preventive measures deployed first with a roll call of every person on-site including visitors and location.
NDA and eSignatures on forms
User Access Control Management
Customizable forms based on visitor category (Contractors, interviewees, etc.)
Data reporting dashboard updated in real-time
Scalable over an infinite number of devices
Customizable interface as per brand ideology and design
Cloud-based data storage with enhanced encryption of data to prevent theft.
Stores visitor data only if it's verified as authentic information.
Source – Ara
SwipedOn considers itself one of the United States' biggest Visitor Management software organizations. The company claims to track over 30,000 visitor movements every day in 65 countries that it operates in.
Last year alone, SwipedOn claims to have tracked 16 Million visitor movements. The company endeavors to increase the warmth and bond between visitors of an organization and the front office apparatus, by freeing up time spent by receptionists in manual visitor entry management and processes.
Their customers include Skyscanner, Mitsubishi Motors and Hugo Boss to name a few.
Some of the software's features are as follows –
Instant Host notifications
Customizable UI to fit brand pedigree
Evacuation and disaster management mode
Visitor badge printing
Visitor Screening for infectious diseases (in light of the Coronavirus pandemic)
Digital NAD forms
Centralized digital dashboard for data analysis
Catering – This is a radical add-on to the entire visitor management tool. It allows visitors to place orders for food and beverages through the SwipedOn application during the registry. The in-house cafeteria or the local coffee shop can tie-up with the firm to project their offerings through the menu interface on SwipedOn. What better way to please your visitors than making them feel completely at home.
Multiple third-party application integrations feasible (Active and Azure Directory).
Enhanced data security
Bulk SMS notifications at minimal price charges, when visitors or deliveries arrive.
Source – SwipedOn
Founded in 2005 by Raptor Technologies, LobbyGuard's claim to fame in the visitor management software segment has been its plethora of efficient products – each of which fulfills a set of criteria with their features.
LobbyGuard provides a comprehensive set of features that can be used to track and visitors effectively. The primary products are branched out into four different types –
A. LobbyGuard Versa – A 10.1" Windows tablet kiosk, which serves as an all-in-one solution for visitor management. It extends support for external devices with two USB jacks, an Ethernet port and an external monitor port. Runs on the Microsoft 10 IoT OS.
B. LobbyGuard Defender – A 22" tablet that also performs the same functions as that of a Versa. Built for durability and one of the biggest kiosks in its class.
C. LobbyGuard SL – If an organization doesn't need the kiosks set up, then they can simply download and install the company's software on their hardware at entrances. LobbyGuard SL is the portable version of the software on the kiosks, turning company-owned hardware – computers and tablets, into LobbyGuard kiosk-like devices. Necessary additional hardware such as hi-res cameras and visiting badge printers will need to be set up alongside the already present hardware.
Some of their common features are as follows –
Visitor Badge printing
Photo capture
Accurate data reporting and analysis
Easily scalable over multiple devices
Multilingual support
Scanning of driver's license is feasible
Requesting declaration of physical contents
Maintaining blacklists as well as conducting simultaneous background checks of visitors.
Pre-registration of customers
Easy re-registration procedures with barcodes – visitor emails and phone numbers.
Define and segregate your customers
Support and capability for eSignatures
Custom UI to display unique brand identity
Custom integration and software upgrades per requirements of the company.
LobbyGuard's incredible span of functionality doesn't stop there. They've also designed an application for registration and check-in's on-the-go to avoid long lines at queues called LobbyGuard GO! GO enables employees to pre-register and sign-in their visitors, while also keeping a track of their movements within the complex.
Available on the Apple App Store for iOS and the Google Play Store for Android, GO allows background checks of users as well as the ability to scan driver's licenses for enhanced ID verification. Visiting badge printing commands may also be given to kiosks within the complex, remotely.
Source – LobbyGuard
Envoy by far, is one of the most popular Visitor Management systems. Deployed on sites of companies such as Hulu, Pinterest and Elon Musk's Tesla, Enoy's Visitor management software does what regular visitor tools do and more to ensure organizational deficiencies in the lobby are addressed
Some of the key features of the software are as follows –
Visitor verification and maintenance of blacklists
Enhanced data protection and privacy rules
Real-Time visitor data dashboard and analysis
eSignature capabilities fitted with a system to sign various kinds of forms
Visitor information stored on consent, facilitates quicker re-registration
Customizable UI for brand building purposes
Multi-lingual support
Email notification to guests with the corresponding host address, meeting time.
User Access controls to limit data exposure
Visitor and bade printing capabilities
Emergency planning mode to ensure no-one is left behind during times of disaster through visitor tracking
Notification to hoists regarding visitor arrivals
Wide app base for third party integrations – Skype, Slack, G Suite (Unique), Cisco Meraki, etc.
Conclusion
Choosing the perfect visitor Management system for your organization is absolutely necessary. We aim to make your decision regarding the right reception management system hassle-free, with our audited list of software, both free and open-source as well as paid for.
Reception Management tools such as Greetly, iLobby, Proxyclick and The Receptionist are valuable software that are showing great potential as well.
If you have used some of the top visitor management software, please do share your valuable feedback with us.
Views and reviews about the article in the comments section below will be appreciated.