Rock climbing is more than just a sport – for many, it's an adventure. It's an awesome sport full of challenges and rewards. It's something you can do from almost anywhere in the world and it's a great way to discover a new place. However, not having the right rock climbing equipment can hold you back. It can also impact your safety. Make your climbs the best they can be by learning what kind of equipment you need.
Harness
If you have a climbing rope, you need a safety harness to tie it to! All harnesses have two front tie-in points where the climber can thread the rope and tie it in – one at the waist and one at the leg loops.
As with climbing ropes, the primary consideration when choosing the right harness is unsurprisingly safety, i.e. are there any signs of defects or damage? Just recently, more than 100 dangerous harnesses were seized from an eBay seller – showing how important it is to do your research before buying one.
The secondary consideration should be comfort – ideally, your harness should be built into your clothing to ensure a full range of movement. Padding, extra-wide webbing, ventilation and moisture transport are just some of the 'comfort features' to look for.
Climbing ropes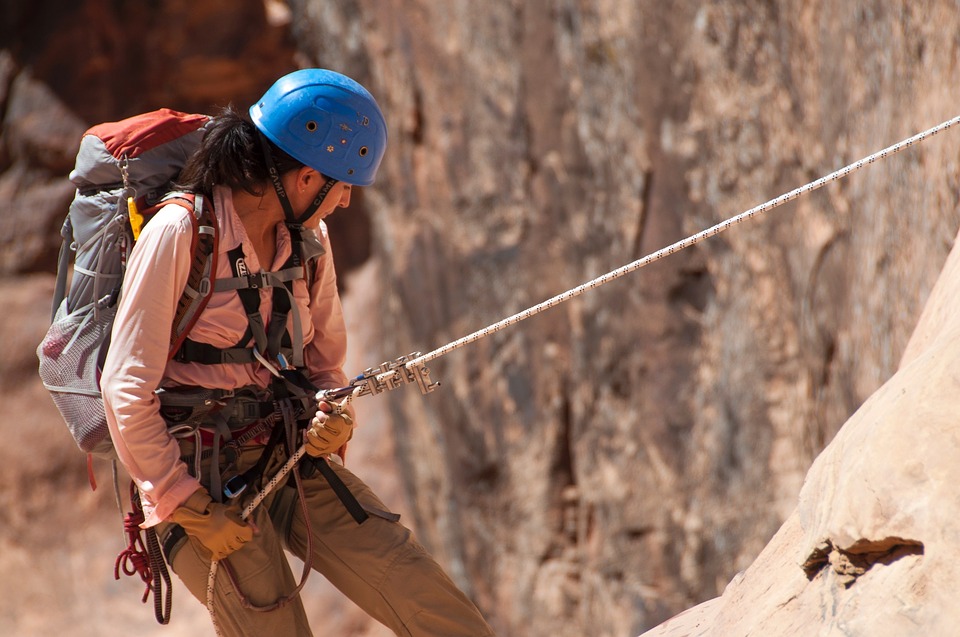 This is the single most important type of rock climbing equipment. Climbing ropes link together the entire safety chain and can save your life if you slip and fall.
If you're just starting out at an indoor rock climbing centre, you will likely have the rope provided for you. Many climbing centres have their own ropes for liability reasons. However, some centres require you to bring your own rope to do lead climbing.
Once you become more experienced and want to use your own rope, there are several factors you need to consider. Rope type, diameter and length, rope features and safety ratings are all important when it comes to a safe and efficient climbing.
Climbing helmet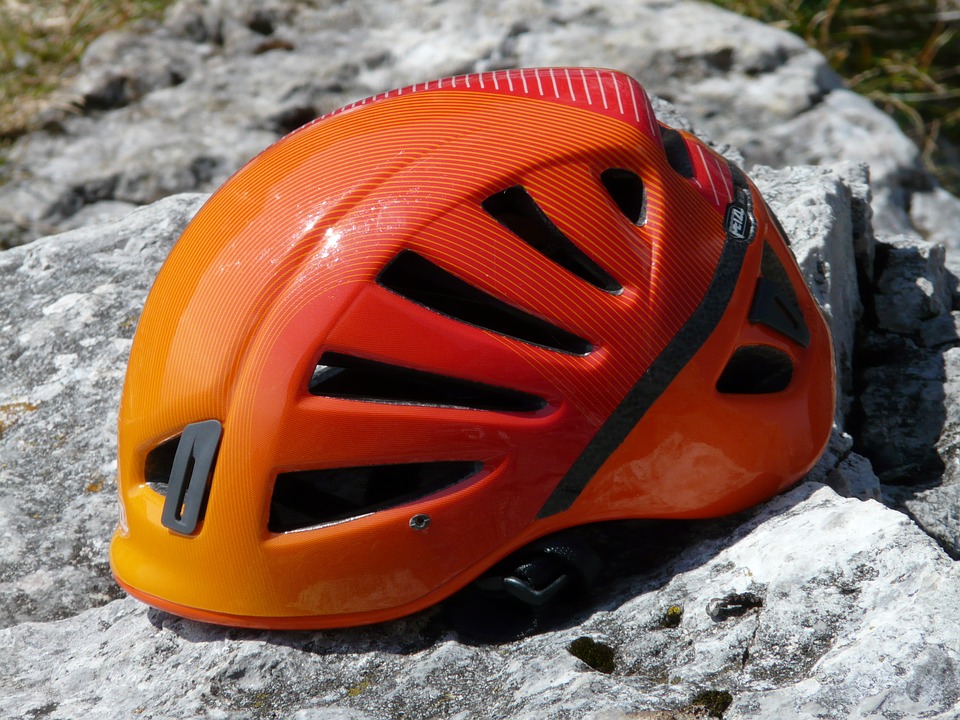 Another essential piece of rock climbing equipment, the climbing helmet serves several purposes.
If you're doing a form of outdoor rock climbing such as mountaineering, trab climbing or sport climbing, your climbing helmet is designed to cushion your head from falling rock and debris.
Some (though not all) climbing helmets are also designed to provide protection in the case of a fall. However, if you're climbing indoors, you generally won't need one, as they often have foam floors and so are a 'controlled' environment.
Ideally, your helmet should fit snugly and sit flat on your head, but not feel too tight!
Rock climbing shoes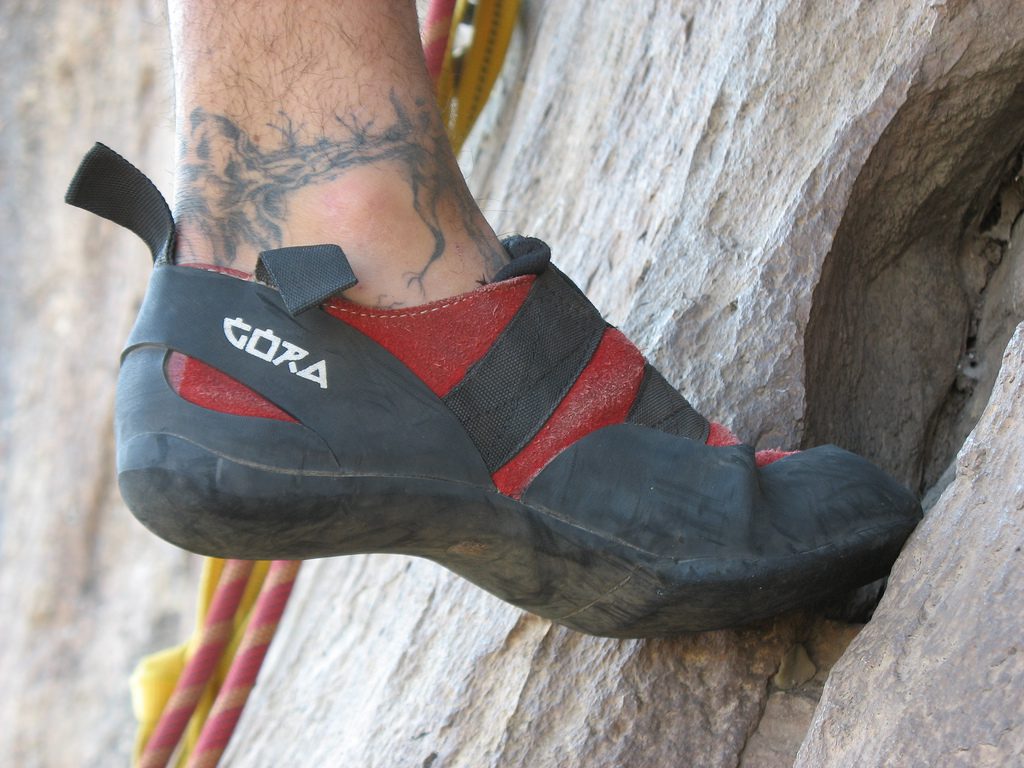 You need rock climbing shoes in order to reach your peak performance (pun intended). Not only do they protect your feet, but their sticky rubber soles give you the friction and durability you need to grip footholds during your climb.
Most shoe styles are quite versatile, but your climbing ability and where you climb are both factors in choosing the correct shoe.
Rock climbing shoes should fit snugly on your feet to help you utilise smaller holds, they shouldn't be painfully tight and should be easy to take on and off. If you're stuck on which type of shoes to buy, please check this link to get help on choosing.
Belay device
A belay device is one of the first pieces of hardware a rock climber will buy. If you haven't heard of a belay device before, it's essentially a mechanical friction brake device used to control the rope.
The belayer (the person on the ground who secures the climber) will typically use a belay device to catch a fall, lower a climber, or gradually let the rope out during an ascent.
There are three types of belay devices to choose from, depending on the type of climbing you want to do – tubular, assisted-breaking. Here's a guide to all three.
Chalk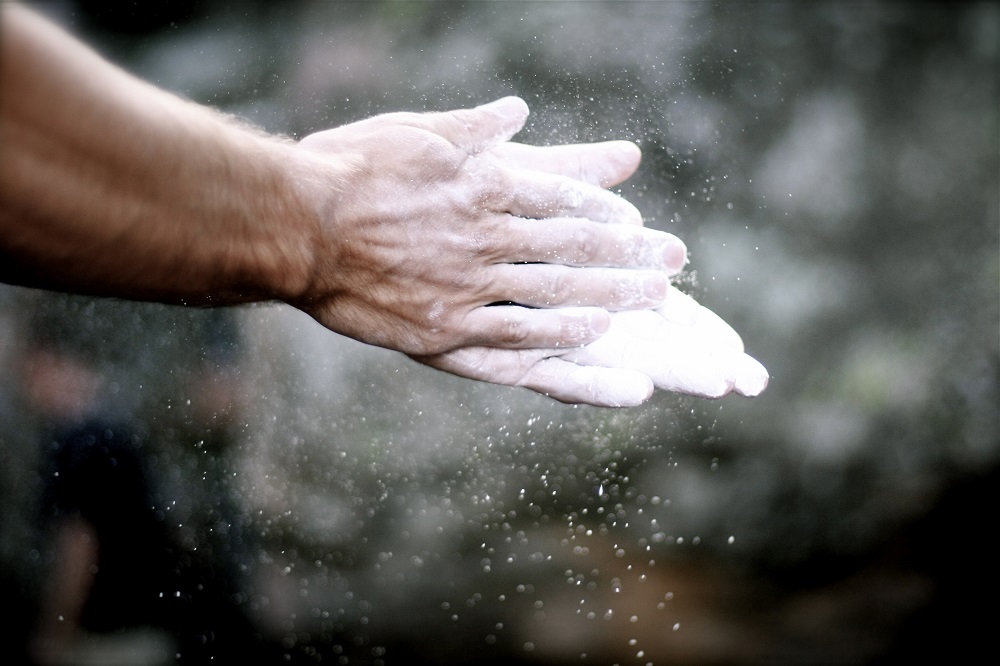 It's vital that you take chalk on your next climb, as grip is such an important factor in rock climbing,
Chalk drastically improves your grip on the rock by absorbing sweat and other forms of moisture on your hands and skin. This not only increases friction, it prevents chafing and rubbing.
Most forms of climbing chalk are made from Magnesium Carbonate – the same compound which is used by gymnasts and weightlifters to improve their grip on a barbell or dumbbell.
To reduce environmental impact, it's good practice to use a chalk which matches the colour of the rock you're climbing. If you're climbing at an indoor centre, you want a chalk sack which reduces dust dispersion.
Chalk bag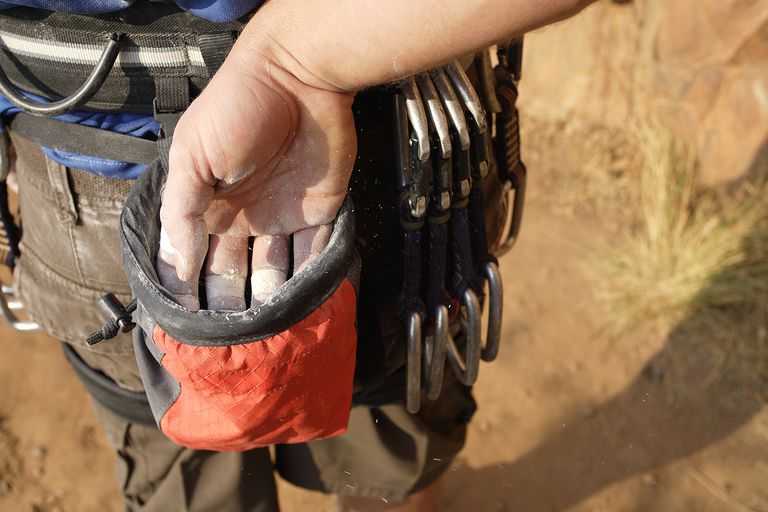 If you take chalk on your next climb, you need a chalk bag in which to store it.
You can opt for both style and substance with a chalk bag since it's one of the few rock climbing items which can be deemed fashionable! There are plenty of styles to choose from, which have different colours and patterns and come with special features.
Whatever bag you get needs to be wide enough to fit your hand, suitable for the type of chalk you're using and tailored to the length of your climb. A cylindrical bag is ideal for longer climbs, whereas a tapered bag is best suited to shorter routes.
Carabiners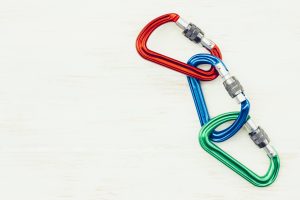 A carabiner, also known as a 'biner, is a strong, light ring which is used to connect the climbing rope with other pieces of climbing protection, such as nuts, bolts and camming devices.
It is usually made from a combination of steel and plastic and contains a gate which allows the climbing rope to pass through. What's more, it can be attached to clothing, equipment and other materials to enable climbers to move up and down a wall or rock face.
The first carabiner a rock climbing beginner will use is a locking 'biner which is designed to be used with a belay device. Carabiners come in all kinds of shapes and sizes, so to find out which type of carabiner is right for you, check out this video.
Quickdraws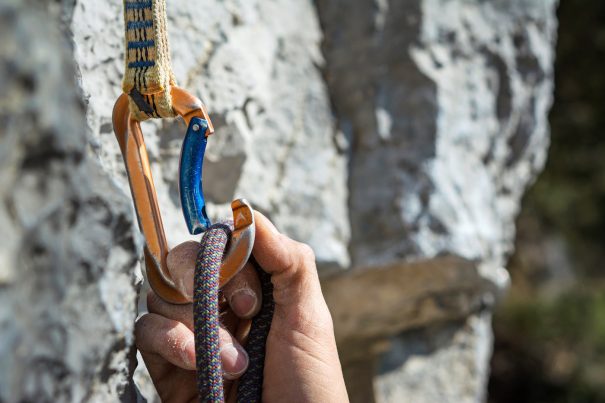 A quickdraw, which is sometimes called an extender, is a useful piece of rock climbing equipment.
Made up of two carabiners connected by a textile sling, quickdraws are used by rock climbers to allow the climbing rope to run freely through bolt anchors or other protection while leading.
As with other forms of rock climbing equipment, though, the purpose of a quickdraw varies depending on the type of climbing you're doing.
Once again, YouTube is our friend on this one – the above clip will help you pick the right quickdraw for your climb. There's also useful advice on looking for signs of damage and ensuring you choose the safest type of quickdraw.
Before you head to the mountains, make sure you get our rock climbing insurance. This will ensure that you're not left out of pocket following an unfortunate accident.
What do you say? Do you find this article useful? Please like and share it! For more info or business proposals you can contact me!