The financial argument for traveling light got even stronger this fall when American, Delta, JetBlue, and United raised their checked-bag fee from $25 to $30. Limiting your luggage to one carry-on bag can certainly save you money, but it can also seem impossible to anyone who's used to cramming a big suitcase full of "just in case" for every trip.
Whether you're packing for a weekend city break or a two week beach holiday, these are all of the tips you'll ever need for stress-free packing: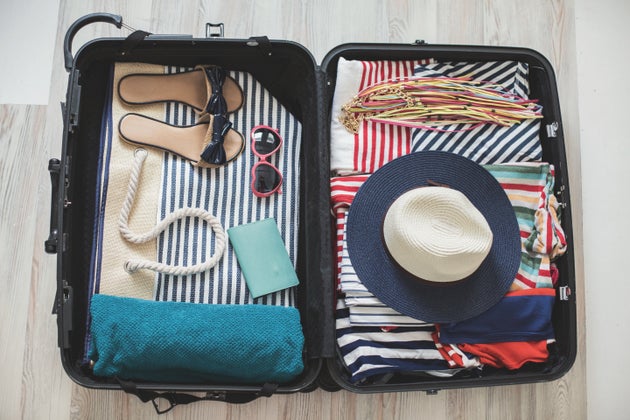 1. Make a packing list
Passport? Check. Toothbrush? Check. Sunscreen? Doh! Don't rely only on your memory! Use your smartphone app to make your list. I reccomend more an application instead of a paper, because it's easier to take it with you. Also it's easier to mark them as done, and unmark them when you return home.
For peace of mind that you've got the essentials covered, download my holiday packing list.
How to pack clothes:
2. Avoid stains
Ever packed light clothes and found a stain on them when you arrived? Never have this problem again. Firstly you should always make sure your light coloured clothes are packed inside out, and secondly, hold on to hotel disposable shower caps and use them to cover the base of your shoes.
3. Roll and vacuum pack
Don't arrive at your holiday destination and be faced with a pile of ironing. To save space and stop creasing, roll your clothes instead of folding them, then place them in vacuum compression bags. To use these bags, put your clothes in, seal the bag, then squeeze the air out. This will leave you with lots more space in your suitcase and will prevent creases.
4. Cube your clothes
Another good packing solution is packing cubes – these help separate your items and find things more quickly once you get there.
5. Fill dead space
When it comes to packing, make use of every little inch of suitcase space that you can. Roll tops, underwear, socks, and other small items and stuff them into your shoes to make sure every possible space is filled.
6. Stay fresh
It's important to keep your clothes smelling fresh, especially if you're on a long trip. By taking a small bag of potpourri, fabric conditioner sheets, or scented drawer liners, you'll keep your clothes smelling sweet throughout the trip.
How to pack gadgets:
7. Ziplock bags
How do you usually organise all of your electronics, cables, those fiddly bits that take you ages to dig out at security? Stuff them in like the rest of us? Well, if you want to organise your packing then get yourself a stash of ziplock bags. Phone charger, camera charger, adaptors, headphones – take extra plastic bags (the same ones you'd use for hand luggage liquids) and use them to store electrical items, things for the journey home (house keys, parking ticket, and car keys), medication and other loose accessories.
How to pack make-up:
8. Cotton wool
To prevent your pressed powder or eye shadow from cracking during your travels, place a flat cotton wool pad in between the pressed powder and the lid.
How to pack books:
9. Don't
Whether it's that steamy romance novel, thrilling sci-fi, or a dog-eared travel guide, download it before your trip. Even if at home you're a paper-til-I-die sort, save the space and weight for your holiday. And don't count on wi-fi to jump back into the story from your perfectly positioned beach chair. Make sure it's on a water-resistent covered device (check out Otterbox for some serious protection for your cherished e-reader, phone or tablet).
How to keep valuables safe:
10. Empty bottles and tubes
To avoid the worst case scenario of being robbed, it's best to be inconspicuous: don't flash cash or expensive jewellery. If you're worried about valuable stuff in your hotel room, hide it in an empty sun tan lotion container. You could also use empty lip balm containers to hide rolled up notes.
How to avoid extra baggage fees:
11. Weigh your luggage
Invest in some luggage scales and make sure you weigh your bags on both legs of the journey to see how close you are to reaching the weight limit. If you're close to the limit, consider wearing some of the heavier items or cutting down on what you pack in the first place.
12. Buy a lightweight suitcase
Don't assume that buying the most expensive designer suitcase will get you an upgrade – instead, it's more likely to attract thieves at the airport and on your travels. It's better to be inconspicuous and go for a lightweight option. If you're using a hardshell suitcase, this can add up to four kilos of weight before you've even started packing, so expensive isn't always best.
13. Know your limits
Baggage allowance varies from airline to airline. Make sure you're aware of your limits before you reach the airport. Some, but not all carriers will allow you to check in two bags, and the weight allowance can vary (see point 12). Make sure you understand the hand luggage allowance and avoid costly charges at the gate. You might also want to read our hand luggage guide.
How not to lose your luggage:
14. Spruce up your suitcase
Don't be faced with an airport baggage carousel crisis where you're searching for your luggage amidst its identical neighbours. Label your suitcase with luggage tags and give it a bit of a makeover to help spot it in the crowd. Decorate it with ribbons, stickers or even colourful shoelaces so it's instantly recognisable.
How to cope with lost luggage:
15. Pack good hand luggage
No matter how well we decorate our suitcase, sometimes the unthinkable happens. Sometimes bags go missing. Make sure all your valuables are in your hand luggage and always pack a spare change of clothes in your hand luggage too, just in case the worst happens and your checked bag is lost/delayed. That way you won't have to rush to the shops as soon as you arrive to buy replacement clothing. But before you go shoving everything in your hand luggage, you might be surprised by some of these unusual items not allowed in your cabin bag.
What do you say? Do you find this article useful? Please like and share it! For more info or business proposals you can contact me!